Holy everlasting buckets of gumdrops, Batman!
Ok... maybe Robin never actually said that. It was totally me... but it sure tells you just how overwhelmed I was with the sheer awesomeness of this most recent ebook, don't you think?
Have you ever protected a dragon from a bunch of fuzzy, beaked creatures looking for lunch?
I Have.
Have you ever transported into a strange new world when you should have been sleeping in bed?
I did.
How about rescuing a princess from a tower?
And I did it all while reading Fierce Winds and Fiery Dragons, the first installment of the Dusky Hollows series, written by
Nan Sweet
.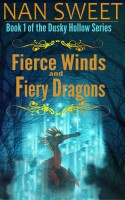 I elected to read Fierce Winds and Fiery Dragons because I wanted an ebook that was reasonably short, but not
too
short. This was an obvious choice, since it was just over 40,000 words.
The author has billed it as a children's chapter book, ages 9-12, and that's a great fit for it, I think. In all honesty, however, I think this is enjoyable for
anyone
that enjoys a good, high-paced, urban fantasy (modern world, infused with magic).
Short and sweet. Just what I was looking for.
Oh, and... did I mention?
It achieved Treasured Tome Status!
Yep. It's that good. I couldn't put it down, read past my bedtime, and woke up late because of it.
So what's it about?
Ivy and Carrie love their fifth grade class, even if their teacher, Mrs. Huffity, does tend to say and do some pretty strange things. One day, Mrs. Huffity asks the class for volunteers to care for an egg. Taking care of the egg for one night means being able to ignore a single class assignment free of penalty, which is every student's fondest dream. Ivy, though, has had nightmares about this egg, and so she refuses to have anything to do with this easy way out of an assignment. At one point, though, Ivy takes the egg home with her, knowing that the egg will be in danger if she doesn't. After this choice is made, however, Ivy discovers that keeping the egg safe means placing herself - and Carrie - in danger.
Have I caught your interest, yet?
Then let me put it to you this way:
The last time I was this excited over an indie author's work, I ended up buying every last ebook that the author had on the market. I still follow her closely today, even though I'm paying much more for each new book that comes out now that she's made it to print.
That author is Amanda Hocking.
Nan Sweet's writing is very different, of course, and Fierce Winds and Fiery Dragons isn't quite as well polished. She should probably find a good proofreader to catch the accidental homophones that occasionally find their way into an otherwise exceptional work (hear instead of here, for example).
Strangely, those mistaken word entries didn't bother me as much as they normally would. Perhaps this is because her command of storytelling is so engrossing that I'm able to simply pass them off as "oopsies" that occurred because her brain was thinking so far ahead that her fingers couldn't catch up.
Regardless, that's the only flaw that I found in this ebook.
Fierce Winds and Fiery Dragons was so well written and so mesmerizing that I was upset when the author was cruel enough to let the book end. I wanted
Not only that, but I wanted to race to my neighbor's house, wake her up by banging on her door, and beg her to download this for her daughter... who will have the reading skill necessary to enjoy it sometime before this calendar year is over.
Thankfully, I was able to refrain... barely.
But I do plan on bringing it to the neighbor's attention later, because...
Wow.
Download it. Give it to a fantasy loving child. Read it yourself before you do. Then read the sample for the next one in the series, as well... and go ahead and buy that installment, too. I did.